These are among the subjects of American painter James P. Nelson who retells personal experiences through a vocabulary of symbolic landscapes. He connects a live wire of emotion to imagery he finds around his neighborhood, on trips far and wide, and sometimes from memories of an earlier era. His art resonates with mood -- a bleak window view frames a flowering indoor plant, a radiant elm painted in springtime also painted on a bitter February night, a burnt-out house crumbling under a blue sky. Unabashedly a painter, Nelson's work has been exhibited and collected widely during his 40-year career.

Born in 1949 near Boston, Nelson began drawing seriously at an early age, encouraged by his mother, an artist and portrait painter. His father's career as a Naval Engineer required frequent moves through East Coast suburban neighborhoods. When his father retired from the Navy, the family moved to Pittsburgh, a city crammed with heavy stone churches, trolley cars, lush hillsides, and solid brick houses. For 12-year old Nelson "it was very exciting," he says, "like a model train set."

When Nelson enrolled as a BFA student at Carnegie Mellon University in 1967, he reveled in studio painting courses guided by professors including Elaine de Kooning, Robert Lepper, and Gandy Brodie. He passionately explored art history, embracing the work of artists from different eras and aesthetic traditions. While at CMU, Nelson learned that the spontaneous interaction of mind, arm, brush, paint and canvas could be as expressive as the image he was painting. He discovered ways to energize colors and manipulate their feelings. He assimilated the essence of his artistic heroes, and began to find his own creative direction.

Graduating with a BFA in 1971, he continued at CMU for one more year as an MFA student. By the end of that year, however, Nelson decided it was time to be an artist, not an art student. He moved to New York City in 1972 and immersed himself in the big city art scene. His paintings were exhibited in galleries, and he had his first one-man show. During this time he lived in several Manhattan neighborhoods, but an urge for permanence was taking hold and he started thinking about a place to settle down. Packing up and zigzagging on an extended cross-country road trip, Nelson searched for a new home, painting the things he saw and felt along the way. During this trip, he was nostalgic for the no-nonsense solidity of Pittsburgh. He returned in 1976 and has been firmly rooted ever since.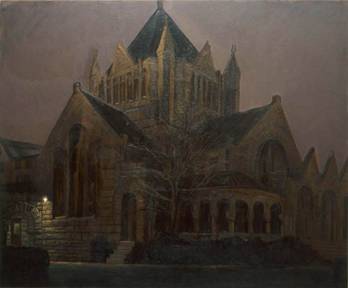 In the early 1980s, he became preoccupied with the depiction of light itself, and focused on twilight and nocturnal images lit by a combination of natural and artificial light. At night, Nelson saw trees and buildings activated with a mystical quality that was obscured by daylight. Paintings from this time include a willow tree sparkling in the rain, strangely illuminated by a streetlight and surrounded by blackness. He painted an imposing barrel-vaulted church with a humble light at the back door. Through such nocturnes, Nelson began to paint beyond the physical subject by feeling its underlying, ethereal dimension.
Rivers, bridges and roads become physical markers of Nelson's psychic path through life. A favorite subject – trees – are often metaphorical self portraits or portraits of friends. He paints many of these tree subjects repeatedly over the years. Nelson frequently returns to his family's summer home in New England where he paints the ocean, expansive night skies, and familiar trees and landmarks that still exist from his childhood. Among these landmarks are houses. For Nelson, they are containers brimming with emotional information. He has expressed opinions of the political world, like his painting of a Colorado rock formation sacred to Native Americans buzzing with NORAD's wasp-like air defense, or an American flag blowing angrily upward. The Highland Park Reservoir near his home represents to Nelson a creative and spiritual reservoir, full of potential. So, through a variety of seemingly ordinary physical subjects, Nelson paints the intangible.

"For me, the metaphysical does exist in the physical" he says. This statement pervades Nelson's approach to painting. Though his images connect differently with each individual viewer, the connection can become recognition of a shared human experience.